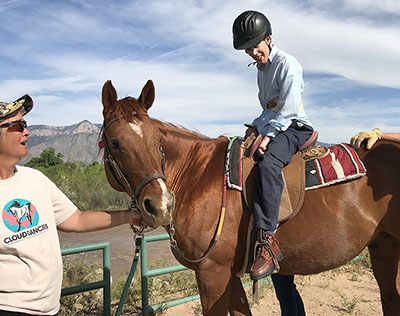 In Loving Memory…Snoopy touched so many lives and will always be in our heart.
Born in 2002+/-, I'm an American quarter horse who is chestnut (or sorrel) in color, with a star and snip on my face and a sock on my left hind leg.   Maybe, because I don't remember much about my upbringing or background, I am a horse of few words and kinda shy.  I let my "actions speak louder than words!"  Sandy & Red, volunteers here at Cloud Dancers, who own me, know that my favorite time of day is breakfast, lunch, AND dinner! My favorite command is WHOA!
Snoopy is perfect for our new riders who don't have much experience with horses as he is calm, steady, methodical, & sure-footed. Nothing seems to phase or startle him. He is also great for building rider's self-confidence & allowing them to learn new skills. Snoopy's laid back personality and easy-going disposition make him a perfect herd member, as he is willing to let other horses take the lead and be in charge.