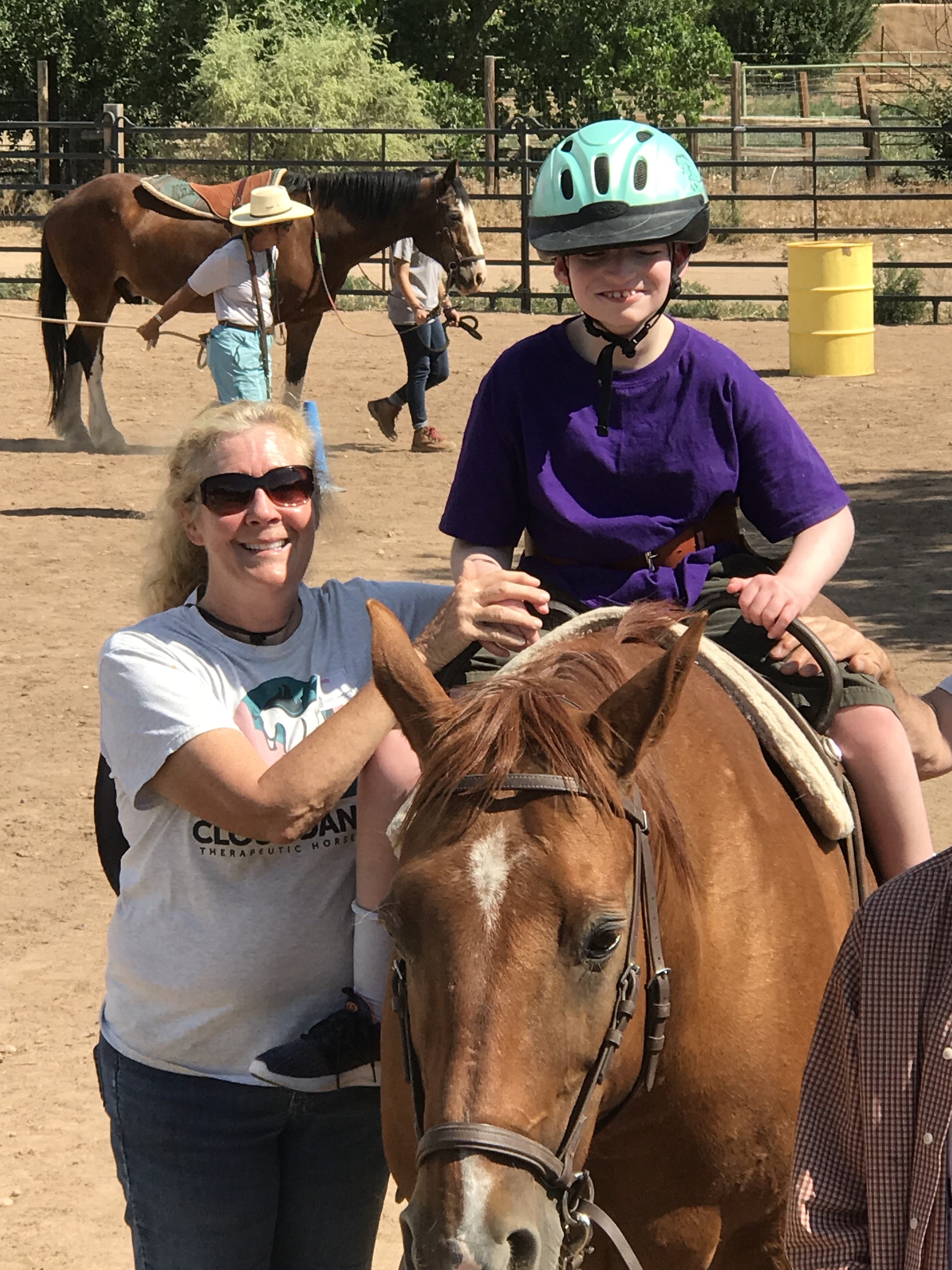 In accordance with current State mandates and CDC recommendations regarding COVID-19,  Cloud Dancers has updated our protocols for promoting a safe environment to enable us to deliver services that are in the best interests of riders, families, staff and volunteers.
Therapeutic horsemanship uses activities with horses to positively contribute to the cognitive, physical, emotional and social well-being of individuals with disabilities. There are four therapeutic riding classifications — education, sport, recreation and leisure, and therapy.
Currently Cloud Dancers practices in three of these areas with plans to incorporate therapy by licensed health professionals, such as Occupational and Physical therapists at a later date. Currently our PATH certified instructors design and implement activities with horses that address cognitive, behavioral, emotional, and physical goals, as well as teach skills in riding, vaulting or ground work. Personal pride and improved self-esteem come from accomplishing new tasks and learning new skills. The pure enjoyment of the horse-human bond brings joy and pleasure along with new friendships and relationships.
Individuals with disabilities who may respond positively to therapeutic riding include people with Down Syndrome, Autism, MS, paralysis, amputations, ADD, ADHD, developmental delays, Cerebral Palsy, brain injuries, strokes, drug or alcohol abuse, hearing and vision impairments, depression, and other disabilities.
Therapeutic Riding
Cloud Dancers adapts safe and fun riding techniques to individuals with a variety of disabilities. Certified instructors develop goals, with input of riders and/or parents/guardians that meet needs for developing core and muscle strength, increasing physical flexibility and balance, enhancing communication and listening skills, improving fine motor skills, and more.
Fun activities to build fine motor skills might include drawing a mystery card from a basket, or putting mail in a mailbox, or retrieving colorful vegetables from the fence and putting them in our pot of vegetable soup, or tossing a small ball into a basketball hoop, all on the back of a horse. Games with colors and shapes may enhance communication and listening skills. Playing red light-green light on horseback focuses on following directions.
Flexibility, balance and core strength may show improvement from the rhythmic gait of a horse being similar to the human gait. Guiding a horse requires good posture with heads up and eyes in the direction the rider wants to go. During lessons riders also learn about horse care and anatomy, grooming and tacking. Both group and private riding lessons are offered.
Unmounted Activities
Therapeutic Riding often includes unmounted activities and games.   During these activities students will learn about horse characteristics, anatomy and behavior, hands on instruction on horse equipment and accessories; care and grooming, feeding of horses, and more.  Activities will be done in fun ways, sometimes through play.  Play creates opportunities for children to gain social and academic skills, such as improving attention spans, following directions, learning to get along with others and developing camaraderie, creative thinking and working through their emotions and supporting goals.