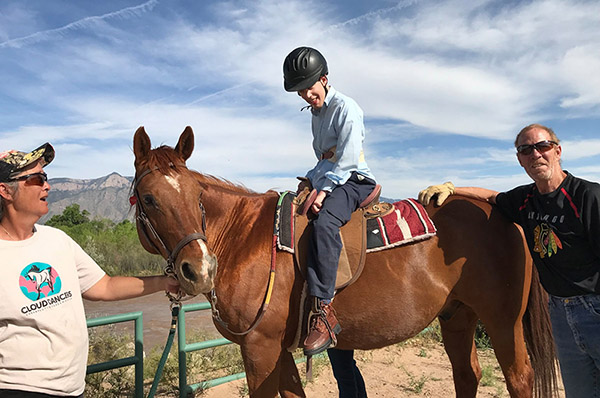 In accordance with State mandates and CDC recommendations regarding COVID-19,  Cloud Dancers has updated our protocols for promoting a safe environment to enable us to deliver services that are in the best interests of riders, families, staff and volunteers.
Volunteers are extremely important to the work of Cloud Dancers' Therapeutic Horsemanship Program. Being in the business of "Improving Lives with Every Ride" requires us to:
consider the needs and goals of our clients with disabilities,
ensure the safety of our riders, staff, volunteers and horses, and
provide fun, therapeutic activities with horses that instill confidence and self-esteem, develop or enhance life and cognitive skills, and improve balance, core strength and flexibility of our riders.
Whatever your passion, skill set or interest, we have a place for you!  We need volunteers for involvement with horses and riders, special events, marketing, social media, administrative support, bookkeeping, resource development and facility improvements.
If you have the desire to make a difference in someone's life, including your own, step through our Process of becoming a volunteer!