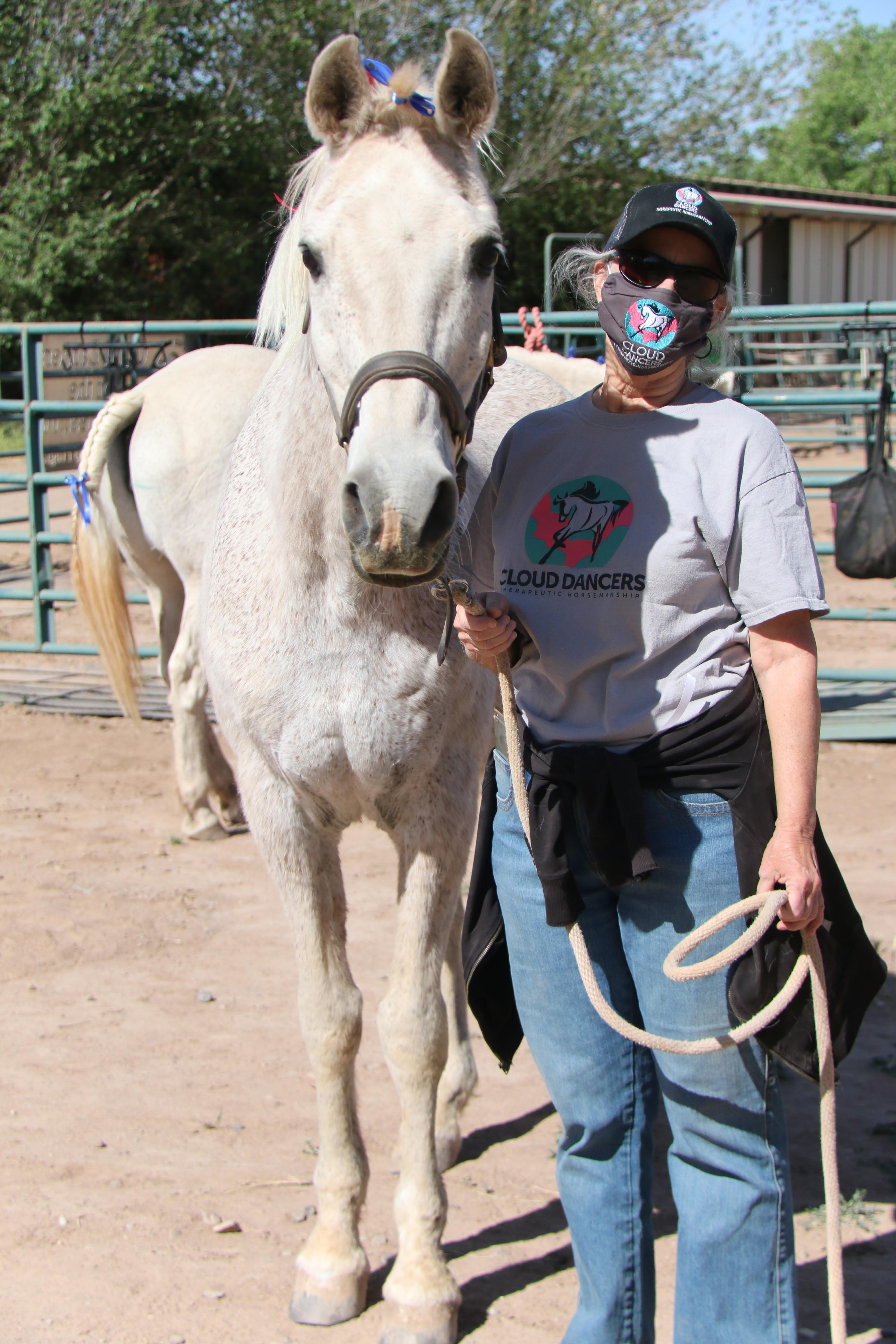 Effective January 2022
01/29/2022 –
Covid 19 Protocol – (updated Jan 2022)
COVID 19 has changed everyone's lives in the way we work, play and interact.  Cloud Dancers has adapted its procedures to keep riders, instructors, volunteers, and visitors as safe as possible.  Thank you for adhering to these Guidelines.
Protocol for Preventing the Spread of COVID 19
If you or a family member have Symptoms of COVID 19 (i.e. a fever, a runny nose, cough or shortness of breath, nausea or vomiting, muscle/body aches, new loss of taste or smell, diarrhea, etc), please

STAY HOME and contact your medical provider.
Cloud Dancers is requiring masks to be worn outside if you are not able to maintain 6ft of distance, and inside, regardless of vaccination status. This means masks are required for: grooming/tacking activities, mounting /dismounting, riders who have sidewalkers, and volunteers who are sidewalkers.
Masks must be worn so that they reach above the nose and below the chin, completely covering the mouth and nostrils.
Cover your mouth and nose with a tissue when you cough or sneeze or use the inside of your elbow. Throw used tissues in the trash and immediately use hand sanitizer.
Do NOT touch your face.
Maintain 6 ft of distance whenever possible including outside.
Sanitize your hands upon arriving at Cloud Dancers, and as needed throughout your time on the premises. Hand sanitizer stations have been set up in the porta potty and in the Viewing Area. For volunteers, additional stations are at sign in area and in the office.
Avoid hugging or hand shaking. Close personal contact should be avoided.
 Protocol Specific to Riders and Families/Visitors
 Rider Requirements
 

If you know you cannot make your lesson because of illness or any other reason, and it is

more than 24 hours

in advance of your lesson notify our Program Coordinator at clouddancersthp@gmail.com or call and leave message at 505-926-1426. If notice is less than 24 hours, please call your instructor and let her know the circumstances for your absence.
Center Usage by Riders/Families
 

Riders, families, and visitors are not permitted to enter the tack room or office.

Upon completion of lesson and dismounting, volunteers will assist riders with removal of helmets if needed.
Cloud Dancers' helmets will be given to a volunteer for disinfecting and return to tack room.
Hand sanitizer stations are available in Visitors Viewing area and in porta potty.
Sanitize hands after using porta potty.
Physical Contact with Instructors/Volunteers
Safety of riders, staff and volunteers is a #1 priority of Cloud Dancers. We will try to do things that prevent us from having close face-to-face encounters with riders, especially during mounting /dismounting. Riders and staff/volunteers will be required to wear face masks regardless of vaccination status. This means during grooming/tacking activities, mounting /dismounting, and for riders or volunteers who have, or are sidewalkers.
Protocol for Reporting Symptoms and/or COVID 19
Contact our Program Coordinator, Louisa Roberts, at 505.926.1426 immediately to report symptoms of COVID 19 (i.e. fever, a runny nose, cough or shortness of breath, nausea or vomiting, muscle/body aches, new loss of taste or smell, diarrhea, etc). Follow CDC Isolation/Quarantine guidelines until you have spoken with your medical professional, determined testing options, met CDC requirements to discontinue Isolation/Quarantine guidelines and are healthy to return to lessons.
If you have tested positive for COVID 19, immediately contact Louisa Roberts, our Program Coordinator at 505.926.1426.  We will notify anyone who has been in close contact with this individual, as defined by the CDC: close contact is someone who was less than 6 feet away from an infected person (laboratory-confirmed or a clinical diagnosis) for a cumulative total of 15 minutes or more over a 24-hour period. We will maintain confidentiality consistent with HIPPA and other applicable federal and state privacy laws.  
We will follow CDC and State guidelines for Staff or Volunteers who have had an exposure or tested positive in regard to their return to lessons, as well as for cleaning/disinfecting.
Thank you for adhering to our guidelines and helping us keep everyone safe!