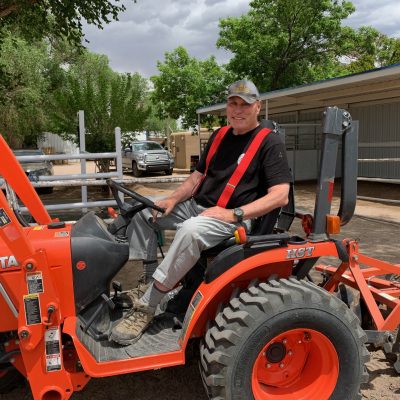 From early childhood, Tom always wanted to live in the Rocky Mountains. Hop-a-Long Cassidy and Roy Rogers were his idles. Instilling an early love for horses were his two chestnut quarter horses, Dan and Flip. The spirit of these horses would return many years later when Tom and his wife, Betsy, volunteered at Cloud Dancers. They bonded with Jackie and Speedy, sponsored them, and then adopted them when they needed to retire.
After earning a business degree and service as a combat engineering officer in the Marine Corps, Tom and Betsy moved to South Dakota and then New Mexico while he worked for Caterpillar dealerships. When the uranium industry slowed after the Three Mile Island event, Tom changed careers. He then served as a registered financial advisor for 25 years and retired from Merrill Lynch in 2009.
Tom and Betsy have two children and two grand children. His life long activities have been hiking, skiing, ice hockey, dogs, and for the past 10 years, caring for horses. The great outdoors has driven his life. Today's activities center on family, his dog, Little Bea, mystery novels, horse care, and economics.